2005-2016
New Transitions
 In the spring of 2005 Pete Parks resigned as campus minister, transitioning away from an important era of Baptist Collegiate Ministry at William & Mary. Rev. Terri Bolt was hired as the interim campus minister. She was an active member of Walnut Hills Baptist Church, which enjoyed both a long history of student ministry and strong relationship with the BSU since its birth in 1964. Terri Bolt served faithfully for nearly two academic years before leaving to become a hospital chaplain.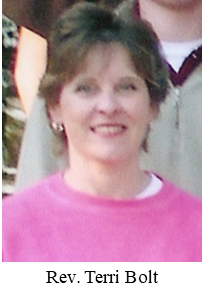 During this transitional time in 2006, Virginia Baptists made the decision to change the time revered name "Baptist Student Union" to "Baptist Collegiate Ministries." The beloved name and acronym had been used to describe a national movement since 1920. Virginia Baptists were following a national trend, one reason being that "student" was being broadly used to describe more than those attending college. Mississippi remains the only state to still use "Baptist Student Union." Upon a campus "where tradition never graduates," this name change became another unsettling element against the backdrop of this transition.
 During the Spring of 2007, Rev. Jeffrey Buffkin began providing encouragement to BCM students while still living out of state, ultimately being hired as the full-time campus minister in May. Having done collegiate ministry in California and Maryland, he was returning to minister in his home state, having sensed a call to ministry while active in BSU at Virginia Tech. The awkwardness of both his personality and the transition were thick in the air upon arrival. His experience proved beneficial. It would take a large amount of listening to and loving of students, as well as a need for offering wise guidance at proper times, to weather these early years.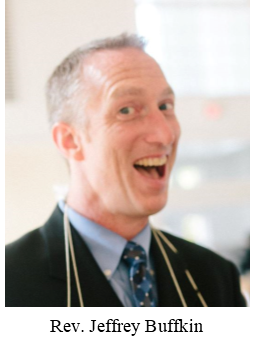 Of course, traditional activities such as Sunday night dinners, thank you songs for WMU groups, Family Groups, Coffeehouses, Spring formal dances, Fall retreats at Eagle Eyrie, and Winter retreats at Eastover all continued. Students are grateful for the support of and relationship with our Virginia Baptist churches, particularly how local families interact with our students.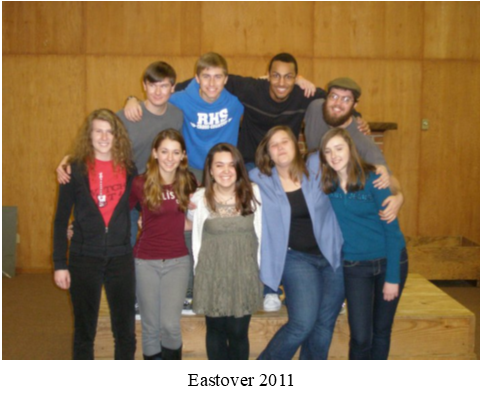 The BCM has continued being the hands and the feet of Christ in the world, both near and far. In the past decade we have engaged in numerous missions experiences, including helping to rebuild post-Katrina New Orleans; ministry in Jamacia, Costa Rica, and Panama; three trips helping to rebuild post-quake Haiti; and three trips to provide More than Nets in Yendi, Ghana.
We have sent teams domestically to do service in Tennessee, South Carolina, New Jersey, and Virginia. Every year we have students involved in both the Kairos Leadership Initiative and the Kairos Missions Initiative, growing and becoming better leaders and servants for Christ. Finally, we continue the tradition of having students engage in numerous summer missions projects around the world. These cross cultural experiences are ventures in growing a deeper trust in God.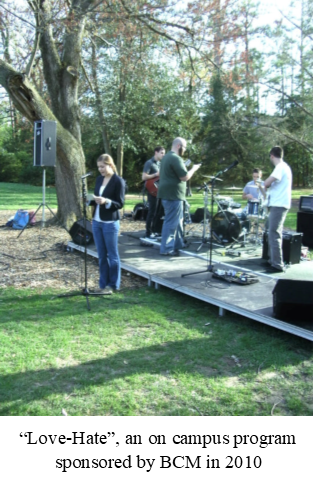 The BCM house has enjoyed a history of caretakers who would live in the house in exchange for their service. This tradition was modified slightly as the current apartment began to be prioritized for the hiring of ministerial staff. Nathan Belcher ('09), Amanda Lewis ('12), and Mattie Patterson Wezah ('09) are among our alumni hired to minister to students at the College. Mattie is married to Rev. Zeko Wezah, from India, who since 2012 has been ministering to the international students at the College. BCM continues to prioritize building relationships among our international friends at the College.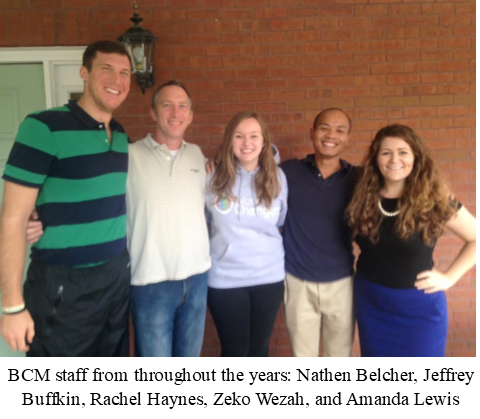 New Traditions
 Yet, new traditions have begun. BCM is becoming known for a commitment to social justice, partnering yearly with International Justice Mission's Stand for Freedom and Dressember events. Our annual "Grilled Cheeses for Jesus" on the Last Day of Classes (LDOC) is a hit with the good spirited students who visit our neighbors for LDOC festivi- ties. Even new service organizations have come from our midst like Greater City, a ministry that is committed to feeding and loving those struggling through homelessness and poverty in Williamsburg.
 BCM is proud of its rich history. The BCM today is a vibrant community of students coming from different faith backgrounds. Despite our differences, we anchor ourselves to each other in a sincere love for Christ and for the people around us. A genuine, honest, and loving community exists that continues to encourage lifelong friendships. We truly are a BCM family, thriving for more than 90 years, remaining resolute in commitment to the four core values of Baptist Collegiate Ministries.