1953-1967
Visionary Women
 Virginia Baptists began taking more responsibility in serving the BSU at William & Mary with the 1953-54 academic year. Students probably noticed little change, however, as the BSU was still very related to Williamsburg Baptist Church (WBC). The Student Center remained in its South Wing and the Secretaries, soon to be called directors, were still part-time. The first secretary during this new era was Mary Lee Rankin. Born in China to missionaries, her father was Milledge Theron Rankin, who became the Secretary of the Orient for the International Mission Board (IMB) in 1935. He would have had supervision of Miss Juanita Byrd and other missionaries during the difficult years of the Japanese occupation of China. He would become the Executive Secretary of the IMB in 1944 and hold that position until his death in June of 1953.
 Mary Lee Rankin was a 1950 graduate of Richmond University and a 1953 graduate of the Carver School of Missions and Social Work in Louisville, KY. She must have arrived in Williamsburg with a heavy heart at the recent passing of her father. "Although Miss Rankin served for only one year, she established a good foundation for the work of her successors." 1 She returned to the Carver School of Missions as a student counselor in August 1954.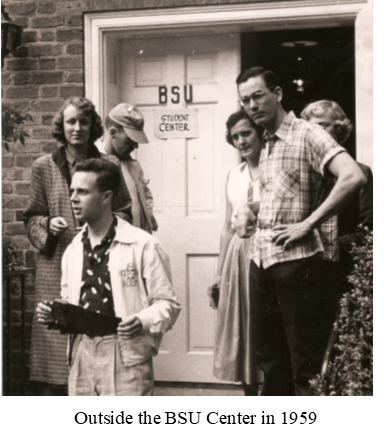 Lula Mae Leake
 Miss Lula Mae Leake, from Woodville, MS, became the director of the BSU in the Fall of 1954. Patrick Scott Stone ('55) served as president of BSU during her first year when he was a senior and speaks highly of both Miss Rankin and Miss Leake.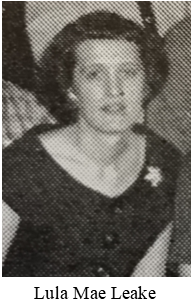 This year also saw the beginning of several years of ministry to the Brown family who lived 5 miles west of Williamsburg. A handicapped father and mother of five children were provided a "proper Christmas," and repairs to their "four-room shack." The Browns appreciated the food, clothing, furniture, hygiene education, and home repairs, and the students loved providing it.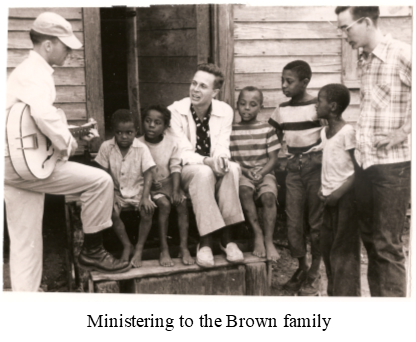 Obviously, Lu's "excellent rapport with the students" could be seen in the increasing number of students involved in BSU during her four years. In 1958, she would become the Assistant Dean of Students at Meredith College, and become the Dean of Women at Wake Forest University in 1964. After 33 years of service, she retired from Wake Forest as Associate Vice President of Student Affairs in 1997. She would later be remembered as a remarkable woman of vision, dignity, humor, and modernity. In the Spring of 1958, Eagle Eyrie Conference Center hosted its very first BSU retreat, attracting over 300 students from Virginia. In the coming years, a Fall Retreat and Spring Leadership Training Conference (LTC) would become a normal part of BSU's annual programming. Eagle Eyrie would become the statewide retreat location, beginning with the annual Fall retreat, and eventually adding the Spring LTC, replacing the hosting rotation by local churches around the state. Today, Baptist Collegiate Ministries in Virginia still gather annually at Eagle Eyrie for Fall retreats, while the last statewide LTC was in 2010.
 Another annual statewide event began at this time to allow Virginia BSU's to bring their international friends during the Thanksgiving weekend. "As early as 1958, the International Student Retreat was held in Williamsburg. There were 100 international students at the 1958 retreat." 2 This retreat would continue into the 1980's.
Mary Elizabeth Wrenn
 There was probably no BSU director for much of 1958-59. Miss Mary Elizabeth Wrenn, known affectionately by her students as "Mary Lib," became director of the BSU in 1959. Like Lu Leake, "Miss Wrenn estab- lished excellent rapport with the students, developed a warm and cooperative relationship with the congregation, and enjoyed a broad and friendly reputation in the community."3 Under her guid- ance, students served weekly at Eastern State Hos- pital, volunteered at the Goodwill Center in Newport News, and provided for a needy family at Christmas. There was also the addition of Monday informal dinners. She was known to play the organ at WBC at times, when the choir director and organist Dr. Carl Fehr would allow. He served in this position at WBC from 1947 to 1968. BSUers became a big part of the worship at WBC during these years. Mary Elizabeth Wrenn left Williamsburg in 1966 and married Dr. Stuart Grizzard, a pastor in Richmond. Barbara Grigg became the interim BSU Director for the 1966-67 school year.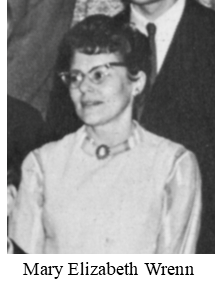 Inevitable Transitions
 1967 would become a year of incredible transition for BSU at the College. Under the visionary guidance and action of William Jenkins, VA Student Secretary 1957-70, Virginia Baptists would continue investing more into BSU. Emphasis on student missions increased, more Student Centers were built, and having as many full-time campus ministers as possible became the goal. Along with the emergence of more Baptist churches in Williamsburg, it was seen as time for the BSU to relate to more than one local Baptist church. In 1967, Virginia Baptists secured a property adjacent to the campus, at 244 South Boundary Street. Having the BSU Student Center at WBC had been "a happy tenure of twenty years." Similar to stories from other college towns nationally, this was a sad transition for members of WBC. It was comparable to a child maturing to adulthood, and moving out of the home for the first time. The Baptist Collegiate Ministries is incredibly grateful for the nurturing environs of Williamsburg Baptist and we celebrate our ongoing relationship.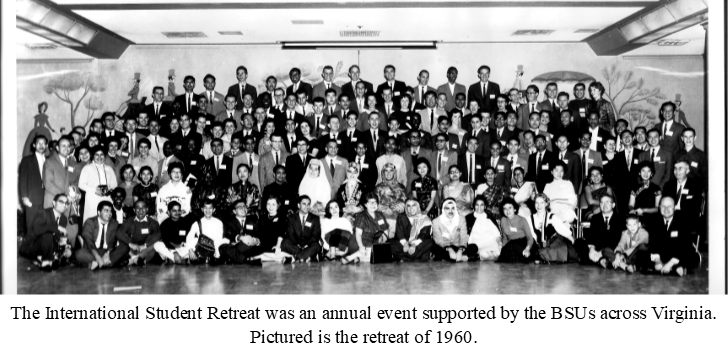 1. (From "History of the WBC 1828-1978," p. 34-35.) ↩
2. (Rachel Cook, Baptist Collegiate Ministry in Virginia: Past, Present, Future, Center for Baptist Heritage and Studies, 2016, p. 11.) ↩
3. (From "History of the WBC 1828- 1978," p. 34-35.)↩